Originally published April 30, 2019, last updated May 17, 2019
Need to De-Stress? Enjoy This Free Coloring Page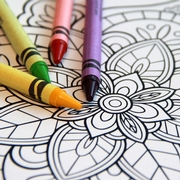 Some studies suggest that coloring can reduce anxiety, improve mood and enhance mindfulness. Similar to meditation, coloring allows you to turn off other thoughts and focus on the moment.
Mature Health Center® created this free coloring page for you, your family and friends — anyone you want to share it with — as part of our ongoing commitment to provide information that can help you live a long, healthy, happy life. Plus, enter our coloring contest for the chance to win a $100 Amazon gift card.
When Mature Health Center gave away its first coloring page, the adult coloring trend was in full swing. Book retailers have seen a decline in coloring book sales, but online sales of craft book sales — the genre including coloring books — have increased. A Forbes article suggests that reports of the so-called end of the coloring book craze might be false — sales might have simply shifted to online sales by retail giant Amazon and self-publishers.
A British retailer even sold a wine, called Colour Me Sauvignon Blanc, with a black and white label meant to be colored. And the adult coloring trend also expanded to digital coloring apps, with several coloring apps consistently ranking among the top grossing apps according to App Annie data.
Whether you color to alleviate stress or just to have fun, we hope you enjoy this new design.
Share the fun!

Email the coloring page to friends, grandkids and others.

Show us your colored artwork: Scan or take a photo of your finished piece and share it on our Facebook page! Share this post so your Facebook friends can color, too. You must be logged in to Facebook to view and share the post.

Enter our coloring contest for a chance to win a $100 Amazon gift card!