Originally published September 24, 2018, last updated January 25, 2019
Daily Baby Aspirin Has No Benefits for Healthy Older Adults, Study Shows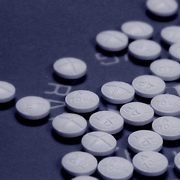 If you're relatively healthy and have been taking aspirin to prevent a stroke or heart attack, you may want to talk to your doctor. New research shows that a daily regimen of low-dose aspirin offers no benefit in preventing cardiovascular disease or dementia.
The study of more than 19,000 people age 65 and older in the United States and Australia "provided convincing evidence that aspirin is ineffective in preserving good health in elderly people without a medical (reason) to be using it," chief author Dr. John J. McNeil of Monash University in Melbourne told Reuters Health.
The Risks
The risks — primarily bleeding — for older, healthy people outweigh the benefits for taking low-dose aspirin, according to the study results, which were published Sept. 16 in the New England Journal of Medicine.
For people who have had a heart attack or suffer from cardiovascular problems such as coronary artery disease, other research supports that taking aspirin can prevent strokes or heart attacks.
Because aspirin also has been shown to help reduce the risk of colorectal cancer and other types of cancer, one finding from the new research was especially surprising: those who took daily aspirin also appeared to be more likely to die overall, apparently from an increased risk of succumbing to cancer. NPR reported that the researchers stressed that the cancer finding might have been a fluke and that any colorectal cancer benefit was not seen because the subjects were only followed for about five years.
Time to Toss the Aspirin?
The Washington Post reported that the researchers did not state whether healthy older people who have been taking aspirin should stop. But the research is creating quite the buzz in the medical world.
Harlan Krumholz, professor of cardiology, epidemiology and public health at the Yale University School of Medicine, wrote in Forbes that the findings have caused him to rethink how he answers the common question, "Should I take a baby aspirin?"
"Today ... my answer is different than it was last week," Krumholz wrote. "If you are healthy, there seems little to gain – and a fair amount to lose."
Your best bet? Talk to your doctor.
In a news release by the National Institutes of Health, Evan Hadley, M.D., director of the National Institute on Aging's Division of Geriatrics and Clinical Gerontology, said that older adults should follow the advice from their own physicians about daily aspirin use.