Originally published February 22, 2019, last updated February 26, 2019
3 Trends You Should Know About Colorectal Cancer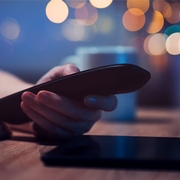 What does binge-watching have to do with colorectal cancer? For March, Colorectal Cancer Awareness Month, we look at three surprising trends with the third most common cancer in the United States.
1. Binge-watching TV shows could raise the odds of middle-aged women getting colon cancer, according to a new study by researchers from Washington University in St. Louis.
The study, reported Feb. 5, 2019, in the JNCI Cancer Spectrum, found that women who'd watched more than an hour of TV a day had a 12% increased risk of colorectal cancer, compared with those who spent less time in front of the television — a trend seen even after accounting for women's history of colon cancer, exercise habits or weight. The study also found a stronger connection with TV watching for rectal cancer than for colon cancer.
2. The recommended age to get screened for colorectal cancer is getting younger.
In May 2018, the American Cancer Society changed its recommendation for people at average risk of colorectal cancer to start screening, moving it up from age 50 to age 45. The organization cited extensive analysis that showed lowering the starting age would save lives, but the decision was not without controversy. Some physicians questioned whether the policy change would do more harm than good, from false positives to high costs. Disagreement aside, most medical experts agree that people 50 and older should be screened for colon cancer.
3. Colorectal cancer incidence has been increasing in the United States among adults younger than 55 years since at least the mid-1990s, with the increase confined to white women and men and most rapid for metastatic disease.
National Public Radio (NPR) reports that the rise is not just because detection is improving — the risk of developing colon cancer is twice as high as it was years ago, and the risk of developing rectal cancer is four times higher. There's been a sharp increase in deaths from colon and rectal cancers among men and women under age 50, but no one knows why, Richard Wender, the American Cancer Society's chief cancer control officer, told NPR. The increase in obesity and consumption of processed foods could be behind some of the increase in cancer incidence, but these trends don't explain the entire change.
The Bottom Line: Screening Saves Lives
If everyone age 50 and older got regular screenings, six out of 10 deaths from colorectal cancer could be prevented. Which test is best?
While the colonoscopy has been widely recommended since about 2000 for patients over age 50, some in the medical field have called for less invasive tests in hopes of increasing participation. Check out the screening options, and talk to your doctor about which one might be best for you.