Originally published March 23, 2018, last updated March 27, 2018
3 Active, Healthy Ways to Celebrate Earth Day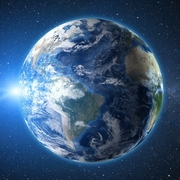 Earth Day, April 22, marks the anniversary of the birth of the modern environmental movement in 1970. Get outside and get some exercise. Here are three active, healthy ways to celebrate spring and Mother Earth:
Do an outdoor workout
Enjoy the beauty of nature with an outdoor workout, whether it's hiking, swimming, cycling, surfing, running or yoga.
Pick up litter
Check your local Earth Day activities to see if there's a litter clean-up you can join to get in a healthy dose of squats. Many communities organize group litter pick-ups, or you can just do so solo. The Australian campaign, Take3forthe sea, encourages people to "Take three pieces of rubbish with you when you leave the beach, waterway or ... anywhere, and you've made a difference." Post your pics on Instagram with the hashtag: #take3forthesea. If you want to do more than three pieces, look online for free litter clean-up kits. Some organizations lend out kits, while others will mail free kits. The Whale and Dolphin Conservation's #NotWhaleFood project is giving away 30 free starter packs — which include a "how to" guide, bags, gloves and an exclusive #NotWhateFood t-shirt — to encourage participation in an #UrbanBeachClean litter clean-up.
Practice mindfulness
Mindfulness practices are getting a lot of attention for improving emotional and physical well-being. Whether you're walking or sitting in the park, slow down to enjoy the beauty of spring. Mindful.org suggests a five-minute spring awakening practice, in which you start with deep breaths and then count each color you see, noting changes in nature that you hadn't seen before.