Originally published July 8, 2013, last updated February 20, 2014
Don't Forget to Pack Travel Insurance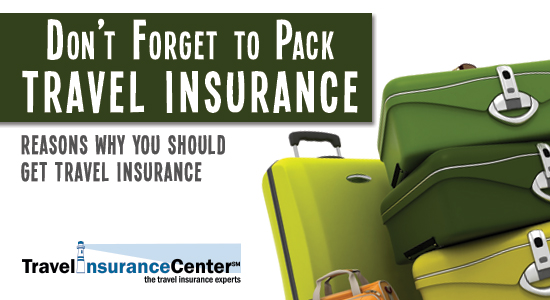 We sat down with Dan Drennen, Director of the Travel Insurance Center, in Omaha, NE, to talk about the importance of Travel Insurance.
Why people should buy Travel Insurance
There are several reasons people purchase Travel Insurance. Travelers might want to make sure their pre-paid vacation investment is protected should an unforeseen illness, injury, or death in the family occur that causes them to cancel their trip.
"A good example of protecting ones investment would be the customers I spoke with recently who had just pre-paid for a river cruise in Europe that doesn't depart until September of 2014," says Drennen. "They got a great deal on the cruise because they agreed to pre-pay for their trip. They bought travel insurance because many things can happen within a 15-month span until the departure."
Other travelers might want to make sure they have coverage for emergency medical expenses including emergency medical evacuation
"An emergency medical evacuation from overseas can easily exceed $100,000," says Drennen. "Do you have that much extra money available?"
Drennen adds, "If you are going to be traveling outside the United States, you need to know if your domestic healthcare policy follows you outside of the country."
Drennen compares not having Travel Insurance for a trip to not having homeowners insurance when you own a house.
"I've had homeowners insurance for 35 years and have never had a claim," says Drennen. "I've purchased Travel Insurance policies for the last 12 years and have never had a claim. But if I did have a claim for either, I know it's there."
Why people don't buy Travel Insurance
Most people believe that nothing bad is going to happen to them. The team at Travel Insurance Center talks to people every day who have stories to the contrary. Those stories inevitably involve a family member, relative, friend, neighbor, or business associate who had to cancel a trip and lost their money, or they incurred large bills for foreign medical care or evacuation back to the states.
Another reason that people hesitate to purchase Travel Insurance is because they do not understand the process. The Policy Picker quoting tool at www.TravelInsuranceCenter makes it easy to plug in your travel information and receive a list of the best insurance options. Drennen also reminds travelers that, in order to take advantage of all policy benefits available, they should purchase travel insurance once the first trip payment or deposit toward any part of the trip is made.
So the next time you are making a packing list, don't forget Travel Insurance. Prepare for the unexpected and protect your well-being and trip investment with an affordable Travel Insurance plan.
For more information on Travel Insurance, please contact our partner, Travel Insurance Center at www.travelinsurancecenter.com or call 1-866-979-6753.