Your Medicare Premium Could Eat Up Your 2018 Social Security Increase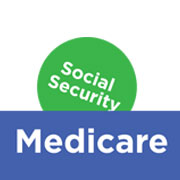 The Social Security Administration has approved a 2% cost-of-living adjustment (COLA), the biggest increase since 2012 and the third largest increase since 2009. But don't get too excited.
For the nation's 66 million Social Security recipients, the increase isn't much, and for those who have their Medicare Plan B premiums automatically deducted from their monthly Social Security benefit, the bump in their Social Security check might not even be noticeable — because their Medicare premiums could devour it.
The cost-of-living adjustment will increase the average monthly Social Security benefit about $25, from $1,283 in 2017 to $1,258 in 2018.
The Social Security-Medicare Relationship
But a rule called the "hold harmless clause" protects Medicare beneficiaries from a Medicare Part B premium increase if the premium hike would reduce their Social Security benefit.
Sound familiar? That's because flat or meager Social Security cost-of-living adjustments have triggered the same rule in recent years. In 2016, there was no cost-of-living adjustment, so most people didn't see an increase in their Part B premium because of the hold harmless rule. In 2017, the government's 0.3% cost-of-living adjustment also triggered the hold-harmless rule. (The hold harmless rule does not apply to people on Medicare but not yet taking Social Security benefits as well as current enrollees paying higher premiums because they earn more.) Part B covers outpatient services and preventative services.
Medicare premiums have not yet been announced for 2018, but the Medicare trustees' mid-year report projected premiums to remain at $134 in 2018 and 2019. Most Medicare beneficiaries in 2017, however, paid about $109 a month, not $134, because of the hold harmless provision. CNBC reports that even if Part B premiums don't rise in 2018, the $25 from the cost-of-living Social Security increase will still go toward Part B premiums for most people.
Use Open Enrollment to See How You're Affected
"The hold harmless rule protects most Medicare Part B recipients from reductions in their Social Security checks, but at the same time, most Social Security recipients won't see that extra $25 cost-of-living bump because it will go toward paying their Part B premium," said Brian Hickey, vice president of Insuractive®, which offers Medicare plan reviews and shopping assistance through Medicare Marketplace®. "It certainly can be confusing, but it underscores the need for Medicare beneficiaries to use Medicare's Open Enrollment Period to review their Medicare plans to stay on top of other changes, which they might be able to adjust for."
Medicare's open enrollment runs Oct. 15 to Dec. 7 and is when Medicare recipients can make changes to their Medicare Advantage or Medicare Part D Prescription Drug coverage for the coming year. Insurance companies can change plans, premiums and drug formularies each year.
"While we don't yet know what the government will set Part B premiums at, insurance companies have released their plans, so we can at least review those for beneficiaries, looking for changes that could cost them more, or even save them money," Hickey said. "The annual review is an important step for all Medicare beneficiaries in managing their health care costs."
For a free review of your Medicare health insurance and prescription drug coverage before open enrollment ends Dec. 7, call Medicare MarketPlace to speak to a Licensed Insurance Agent at 1-800-639-0781.
Or, fill out this form if you'd like us to contact you to review your existing coverage and compare other plans.