Medicare Expands Coverage of Diabetes Devices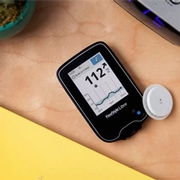 Recent expansion of Medicare coverage for diabetes devices means millions of diabetes patients may have greater access to more affordable means of managing the disease.
Medicare will now cover a continuous glucose monitor that doesn't require diabetes patients to prick their fingers. And the Centers of Medicare and Medicaid Services (CMS) also will now cover more innovative insulin pumps for diabetes patients.
New Coverage for Glucose Monitoring
Abbott Laboratories' FreeStyle Libre System, which allows continuous blood sugar level monitoring without having to draw blood through a finger prick, was approved by the U.S. Food and Drug Administration in September, but its usage has been somewhat limited as it awaited approval by insurance companies and the CMS. The decision in January by the CMS, which oversees the federal health programs of Medicare and Medicaid, expands the coverage to millions of diabetes patients.
The FreeStyle Libre Flash is the second continuous glucose monitoring system after DexCom Inc's G5 Mobile that the federal agency has covered.
New Coverage Possible for Some Insulin-Delivery Devices
Modern Healthcare reported on the under-the-radar notice issued in early January by the CMS that Part D sponsors can now cover new products that deliver insulin through the skin directly, rather than through a catheter placed under the skin.
CMS is not requiring Part D sponsors to include them in their formularies, however.
'Covered' Doesn't Mean Free
Medicare Part B covers both blood glucose monitors and insulin pumps, but the amount covered varies and you may pay a portion of the cost, unless you have another insurance plan that helps pay. The American Diabetes Association details how coverage works.
It's important to understand your coverage, because diabetes is an expensive disease. According to American Diabetes Association, people with diagnosed diabetes incur average medical expenditures of about $13,700 per year, of which about $7,900 is attributed to diabetes. People with diagnosed diabetes, on average, have medical expenditures approximately 2.3 times higher than what expenditures would be in the absence of diabetes.
Manage Your Costs
Make sure you're managing your health care costs by calling the Licensed Insurance Agents and on-staff pharmacists at Medicare MarketPlace® at 1-800-639-0781. They can review your current coverage and help you compare Medicare Supplement, Medicare Advantage and Medicare Part D Prescription Drug insurance plans to make sure you're getting the best plan for your needs at the best possible price.