Medicare Delays New Card Mailings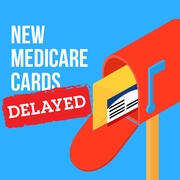 You may not receive your new Medicare identification card as early as originally announced because Medicare officials are stepping up their anti-fraud efforts as even more scammers target beneficiaries.
The federal agency that oversees Medicare had said it would start mailing the new cards in April in a scheduled rollout but recently announced that it won't start mailing out the cards to existing beneficiaries until May or later. Mailings to new newly eligible Medicare beneficiaries, however, were still scheduled to start in April.
See when your card is scheduled to be mailed.
You can also visit Medicare's website to sign up for an email alert when your new card is in the mail.
Beware of Scams
The newly designed cards, ordered by Congress, were meant to fight identity theft and prevent fraud by replacing Social Security numbers with unique 11-digit codes. But scammers are using the change to confuse and even harass beneficiaries. Some con artists call and demand payment for the cards. In another scam, they claim Medicare recipients have a refund on their old Medicare cards and insist that they provide their bank information to process the return of funds.
Medicare officials want beneficiaries to know that there is no fee for the new card and they do not have to do anything to receive it, as long as your address is correct. If you need to update your address, visit your My Social Security account or call 1-800-772-1213.
To report a scam, call 1-800-MEDICARE.
Understanding the Delay
The Centers for Medicare and Medicare Services (CMS), the federal agency that oversees Medicare, said it was continuously adjusting and improving the mailing strategy to make sure cards were being mailed to accurate addresses and Medicare beneficiaries were being protected along with their personal information.
"We are working on making our processes even better by using the highest levels of fraud protection when we mail new cards to current Medicare beneficiaries," a statement on the CMS website reads. "Over the next few weeks, we will complete this additional work and begin mailing new cards to current Medicare beneficiaries."
How to Avoid Medicare Card Scams
Medicare.gov advises Medicare beneficiaries to only give out your new Medicare number to doctors, pharmacists, other health care providers, your insurers, or people you trust to work with Medicare on your behalf.
Mature Health Center partner Medicare MarketPlace® is a private company, not affiliated with Medicare or any federal agency. If you receive a call from Medicare MarketPlace, the Licensed Insurance Agent is calling because you've given permission to Medicare MarketPlace to contact you or you've specifically asked for assistance. Medicare MarketPlace, which is a Better Business Bureau "A+" accredited business, represents multiple carriers that are "A" rated or better and can work on your behalf to find you an affordable Medicare Advantage or Medicare Supplement health insurance plan and/or a Medicare Part D Prescription Drug plan — but only with your permission. Mature Health Center, through its eNewsletter and on its website, strives to provide clear, educational content to help you make informed Medicare decisions.
Subscribe to Fraud Alerts
You also can stay up on the latest scams by subscribing to BBB Scam Alerts emails.