Originally published May 30, 2019, last updated June 3, 2019
Drug Prices to Be Displayed in TV Commercials, But What Will You Pay?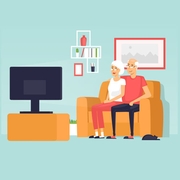 Those drug commercials you see on television will be changing soon. A new government rule requires drugmakers to disclose drug prices in TV ads, "in a legible textual statement at the end of the advertisement" and "for sufficient duration and in a size and style of font that allows the information to be read easily."
But critics say the prices might confuse viewers, because the displayed price is the list price, not necessarily what you will pay. We turned to our partner, Medicare MarketPlace®, to decipher the new rule and how it will affect Medicare beneficiaries.
Most Won't Pay List Price
Most consumers will not pay the full cost but will pay a co-pay or co-insurance, said Medicare MarketPlace Pharmacy Director Ryan Vlasin.
"What the ad won't tell you is what portion of that full cost you see on the screen is covered by your insurance," Vlasin said. "But what it will tell you is the total cost, and that gives you an idea of what your co-pay or co-insurance might be — that's your out-of-pocket cost."
For example, if the cost displayed in the TV ad is $15,000, you can conclude that you'll pay more than a drug with a list price of $100. (The rule applies to prescriptions that cost more than $35 per month or courses of treatment, which are covered by Medicare.) The 10 most commonly advertised drugs have list prices ranging from $488 to $16,938 per month or usual course of therapy, according to a government-released drug pricing transparency fact sheet.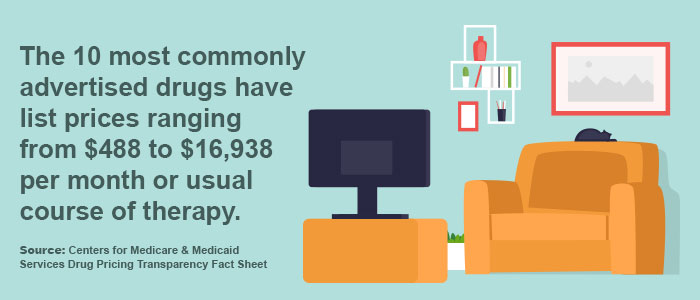 Many Factors Determine What You Pay
"When a consumer on a Medicare Advantage or Part D Prescription Drug plan starts seeing these drug prices appear in commercials, they also won't know if their plan formulary will cover the advertised medication," Vlasin said. "If their Medicare Advantage or Part D plan does have the drug on formulary, a reasonable co-pay or co-insurance estimate might be 25% of the advertised full cost of the drug in the commercial."
But, he said, because Medicare Advantage and Part D plans have different coverage phases, it will be difficult for even an insurance agent to give policyholders an exact co-pay or co-insurance — the exact cost to the client depends on several factors, including which coverage phase they are in. If you're on a Medicare Part D Prescription Drug plan and hit the coverage gap known as the Part D "donut hole," an expensive brand-name drug can be extremely costly, because in this phase you're paying 25% of your plan's price in 2019, for example.
With so many factors contributing to the cost, the Medicare Rights Center points out the wild fluctuations that could occur — one drug might have a list price of $800 per month but cost a Medicare beneficiary $50, while another drug might have a list price of $400 per month but cost a beneficiary $100.
Greater Transparency
The Centers for Medicare & Medicaid Services (CMS) issued the final rule requiring the price disclosures in May as part of the Trump administration's plan to lower prescription drug prices. Historically, pharmaceutical companies haven't been required to share the cost of the drug in commercials.
Consumer and patient advocates generally hailed the rule as a step towards greater price transparency but questioned whether it would do much to lower high prices. Critics also have said the plan for enforcement is weak. Secretary of Health and Human Services Alex Azar said competitors will police each other by bringing legal action against competitors who aren't compliant.
Ultimately, consumers should discuss their options with their physicians, Vlasin said.
"What consumers should remember is that even though ads deliver a promise of better heath," he said, "ultimately your physician is the best source of truth. There are few miracle cures, and we have to ask ourselves if a new medication was so great why are they having to advertise at all?"