3 Ways to Control Rising Medicare Costs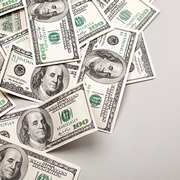 Retiree health care costs are forecast to grow over the next decade at an average annual rate of 5.5%, according to HealthView Services.
But don't expect your Social Security check to cover that increase. The annual growth in Social Security cost-of-living adjustments is just 2.6%. The 5.5% increase in health care costs is also triple the 1.9% average annual inflation rate from 2012 to 2016.
The Bloomberg news report on these latest projections also showed the impact on a hypothetical healthy 65-year-old couple retiring this year with a future adjusted gross annual income of less than $170,000 after adding any tax-exempt income. Their projected lifetime health-care premiums would add up to $321,994 in today's dollars. And that doesn't include costs for hearing, vision and dental care. Add those in, and the total jumps to $404,253.
Planning — and saving — for higher health care costs as you age is a must. But if you're already Medicare age or older, you're likely already in the thick of these higher bills.
How can you manage higher health care costs now?
Mature Health Center is dedicated to providing news and information that empowers you to be an informed health care consumer, and that can lead to savings. Our partner, Medicare MarketPlace®, is dedicated to making the complexities of Medicare health insurance plans understandable so that you can find the best solutions for your needs — and for your budget. Whether you're aging into Medicare at 65 or already enrolled in Medicare, educating yourself about Medicare and working with a Licensed Insurance Agent who specializes in Medicare can make the high costs and Medicare less intimidating, less confusing and more affordable.
Mature Health Center and Medicare MarketPlace have partnered to help you stay on top of your health care costs. Here are three things you can do, and how we can help.
Learn how Medicare works.
Understanding the different parts of Medicare is a critical first step. Our "Guide to Medicare: Helping You Navigate the Medicare Maze" is free, easy-to-understand, and provides useful checklists for enrolling in Medicare for the first time and reviewing your plans annually, a critical step to controlling costs and avoiding costly penalties.
Get the free Guide to Medicare.
Review your Medicare Part D Prescription Drug plans annually during open enrollment.
Because insurance plans can change each year, it's important to review your plans each year during Medicare's Open Enrollment Period, which is Oct. 15 through Dec. 7. A Licensed Insurance Agent at Medicare MarketPlace can review your plan with you to identify any changes that could cost you more money or improve your coverage. You may also want to review your Medicare Supplement health insurance plan each year, because those premiums also can change.
Watch a video about the importance of comparing Part D drug plans.
Understand the Part D donut hole.
When you get a grip on this confusing Medicare coverage gap, you can plan ahead and make decisions that could save you money.
Check out our Understanding the Donut Hole infographic.
Keep reading the Mature Health Center eNewsletter for tips on how to control the rising costs of Medicare and health care. And remember, if you ever have any questions about Medicare health insurance plans or Part D Prescription Drug plans, call 1-800-639-0781 to speak to a Licensed Insurance Agent.