Vegetarian Chicken and Dumplings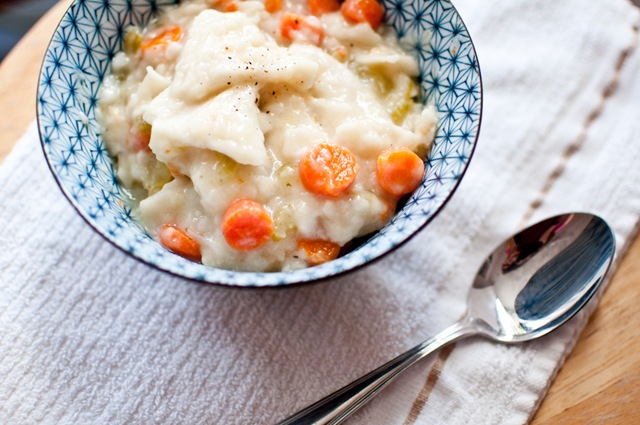 Get your comfort food fix with this healthy, plant-based version of chicken and dumplings.
---
Ingredients:
1 pkg. Lightlife chicken strips
1 c. sliced carrots
½ c. sliced celery
1 medium onion, sliced
1 bay leaf and garlic, salt and pepper
2 cubes vegetable bullion and 3 c. of water
Preparations:
Sauté chicken strips in oil in large pan with lid.
Add spices.
When browned, add carrots, celery and onion.
Sauté until onion is transparent.
Add three cups of water and bullion.
Bring to boil, add bay leaf, then simmer 20 minutes.
Remove bay leaf.
For dumplings, mix 1½ c. flour, 2 tsp. baking soda, 1 tsp. salt, pinch of dried sage, then cut in 3 T. of shortening. Drop by tablespoon full into hot liquid. Cook 15 minutes covered, 10 more uncovered.