Originally published November 30, 2012, last updated August 26, 2014
Stir-Fried Chile Beef and Broccoli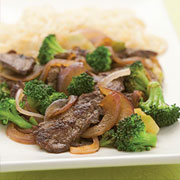 Servings: 4 servings, about 1 1/4 cups each
Preparation time: 30 minutes
Total time: 30 minutes

This quick stir-fry features broccoli and flank steak in a flavorful sauce. This dish is typical of many traditional Chinese stir-fries—the sauce just clings to the beef and vegetables but is not enough to spoon over rice. Marinating beef is essential for ensuring the meat is flavorful. The meat does not marinate overnight, as in traditional Western recipes. The moment the beef is combined with the seasonings it is ready to be stir-fried.
Ingredients:
5 cups bite-size broccoli florets , (12 ounces), stems cut into 1/4-inch pieces
12 ounces flank steak , trimmed
1 tablespoon minced garlic
1 tablespoon minced, fresh ginger
2 teaspoons reduced-sodium soy sauce
2 teaspoons plus 1 tablespoon Shao Hsing rice wine
1 1/2 teaspoons cornstarch
1/2 teaspoon salt
1/8 teaspoon freshly ground pepper
2 tablespoons hoisin sauce , (see Notes)
1 tablespoon Sriracha , or hot chile sauce, plus more to taste
2 tablespoons peanut oil , or canola oil, divided
1 small red onion , thinly sliced
Preparations:
1. Steam broccoli over an inch of boiling water in a large saucepan fitted with a steamer basket until bright green, about 1 minute. Transfer to a colander to drain.
2. Cut steak with the grain lengthwise into 2-inch-wide pieces. Cut each strip across the grain into 1/4-inch-thick slices. Combine the steak, garlic, ginger, soy sauce, 2 teaspoons rice wine (or sherry), cornstarch, salt and pepper in a medium bowl. Stir to combine. Mix hoisin sauce, chile sauce and the remaining 1 tablespoon rice wine (or sherry) in a small bowl.
3. Heat a 14-inch flat-bottomed wok over high heat until a bead of water vaporizes within 1 to 2 seconds of contact. Swirl in 1 tablespoon oil. Carefully add the beef in one layer. Cook undisturbed for 1 minute, letting it begin to sear. Then, stir-fry until lightly browned but not quite cooked through, about 1 minute. Transfer to a plate.
4. Swirl the remaining 1 tablespoon oil into the wok, add onion and cook until just translucent, about 30 seconds. Add the broccoli and stir until just combined, about 15 seconds. Return the beef and any juice to the wok. Stir the hoisin sauce mixture again and swirl it into the wok. Stir-fry until the beef is just cooked through, about 1 minute. Season with more chile sauce, if desired.
Nutrition:
Per serving Calories: 246; Carbohydrates: 13g; Fat: 12g; Saturated Fat: 3g; Monounsaturated Fat: 5g; Protein: 22g; Cholesterol: 53mg; Dietary Fiber: 3g; Sodium: 655mg;
Tips & Notes:
Notes: Shao Hsing (or Shao xing) is a seasoned rice wine. It is available at most Asian specialty markets and in the Asian section of some larger supermarkets. If unavailable, dry sherry is the best substitute. Hoisin sauce is a thick, dark brown, spicy-sweet sauce made from soybeans and a complex mix of spices. Look for it in the Asian section of your supermarket.