Originally published January 8, 2013, last updated August 26, 2014
Smoky Maple-Mustard Salmon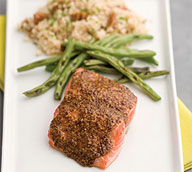 Servings: 4 servings
Preparation time: 5 minutes
Total time: 15 minutes
It doesn't get much easier—or more delicious—than this speedy recipe for roast salmon topped with a smoky maple-mustard sauce. The sweetness of the maple balances the tangy mustard; smoked paprika or ground chipotle adds another layer of flavor. Ask at the fish counter to have the salmon cut into four 4-ounce fillets with the skin removed. Serve with roasted green beans and whole-wheat couscous tossed with pecans and chives.
Ingredients:
3 tablespoons whole-grain or Dijon mustard
1 tablespoon pure maple syrup
1/4 teaspoon smoked paprika , or ground chipotle pepper (see Notes)
1/4 teaspoon freshly ground pepper
1/8 teaspoon salt
4 4-ounce skinless center-cut wild-caught salmon fillets , (see Notes)
Preparations:
1. Preheat oven to 450°F. Line a baking sheet with foil and coat with cooking spray.
2. Combine mustard, maple syrup, paprika (or chipotle), pepper and salt in a small bowl. Place salmon fillets on the prepared baking sheet. Spread the mustard mixture evenly on the salmon. Roast until just cooked through, 8 to 12 minutes.
Nutrition:
Per serving Calories: 148; Carbohydrates: 4g; Fat: 4g; Saturated Fat: 1g; Monounsaturated Fat: 2g; Protein: 23g; Cholesterol: 53mg; Dietary Fiber: 0g; Sodium: 276mg
Tips & Notes:
Smoked paprika is made from smoke-dried red peppers and adds earthy, smoky flavor. Look for different types of paprika at some large supermarkets or at tienda.com or penzeys.com. Chipotle peppers are dried, smoked jalapeño peppers. Ground chipotle chile pepper can be found in the spice section of most supermarkets or online at penzeys.com. Wild-caught salmon from the Pacific (preferably Alaskan) is considered the best choice for the environment because it is more sustainably fished and has a larger, more stable population. Farmed salmon, including Atlantic, should be avoided, as it endangers the wild salmon population. For more information, visit Monterey Bay Aquarium Seafood Watch at seafoodwatch.org.