Quick Pastrami Hash & Eggs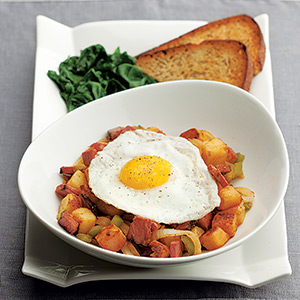 Try this breakfast for dinner when in a hurry. Precooked diced potatoes — available in the refrigerated section of most supermarkets — help make this pastrami hash ultra-fast.
---
Servings: 4 servings
Preparation time: 20 minutes
Total time: 20 minutes
2 tablespoons extra-virgin olive oil
1 16- to 18-ounce package precooked diced potatoes, (peeled or unpeeled)
large onion, quartered and thinly sliced
medium green bell pepper, diced
1 teaspoon paprika
1/4 teaspoon plus a pinch of salt, divided
1/4 teaspoon plus a pinch of freshly ground pepper, divided
5 ounces deli pastrami, diced (about 1 generous cup)
4 large eggs
Preparations:
Heat oil in a large skillet over medium-high heat. Reduce heat to medium and add potatoes, onion, bell pepper, paprika and 1/4 teaspoon each salt and pepper. Stir to combine, then spread in an even layer in the pan and cook, undisturbed, for 3 minutes. Stir in pastrami, spread back into an even layer and cook undisturbed again until a crust starts to form on the bottom, about 5 minutes more. Remove from the heat and cover to keep warm.
Just after you add the pastrami to the hash, coat a large nonstick skillet with cooking spray and place over medium heat. Crack each egg into a small bowl and slip them, one at a time, into the skillet, taking care not to break the yolks. Season with the remaining pinch of salt and pepper. Reduce heat to medium-low, cover and cook undisturbed for about 2 minutes for soft-set yolks.
Divide the hash among 4 plates and top each serving with an egg.
Nutrition:
Per serving
Calories: 307; Carbohydrates: 29g; Fat: 14g; Saturated Fat: 4g; Monounsaturated Fat: 8g; Protein: 17g; Cholesterol: 210mg; Dietary Fiber: 3g; Sodium: 611mg