Originally published February 1, 2013, last updated August 26, 2014
Chicken Noodle Soup with Dill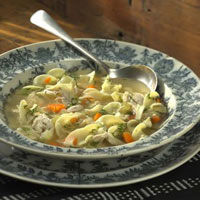 Chicken noodle soup is undeniably comfort food for many people (especially when they're not feeling well) and this version gets a healthful update. Whole-wheat egg noodles add fiber and nutrients and reduced-sodium chicken broth cuts the sodium. By all means use homemade chicken broth if you have it.
Servings: 6 servings, about 1 1/2 cups each
Preparation time: 20 minutes
Total time: 50 minutes

Ingredients: 10 cups reduced-sodium chicken broth 3 medium carrots , diced 1 large stalk celery , diced 3 tablespoons minced fresh ginger 6 cloves garlic , minced 4 ounces whole-wheat egg noodles , (3 cups) 4 cups shredded cooked skinless chicken breast , (about 1 pound; see Tip) 3 tablespoons chopped fresh dill 1 tablespoon lemon juice , or to taste
Preparations:
1. Bring broth to a boil in a Dutch oven. Add carrots, celery, ginger and garlic; cook, uncovered, over medium heat until vegetables are just tender, about 20 minutes.
2. Add noodles and chicken; simmer until the noodles are just tender, 8 to 10 minutes. Stir in dill and lemon juice.
Nutrition:
Per serving Calories: 191; Carbohydrates: 18g; Fat: 3g; Saturated Fat: 1g; Monounsaturated Fat: 1g; Protein: 25g; Cholesterol: 52mg; Dietary Fiber: 2g; Sodium: 998mg;
Tips & Notes: Tip: Place boneless, skinless chicken breasts in a medium skillet or saucepan and add lightly salted water to cover; bring to a boil. Cover, reduce heat to low and simmer gently until chicken is cooked through and no longer pink in the middle, 10 to 12 minutes.
Disclaimers: Scaling Disclaimer: EatingWell recipes are tested extensively in the EatingWell Test Kitchen. EatingWell cannot guarantee a recipe that has been scaled to make a different number of servings from the original. Also note that scaling only applies to the ingredient measurements: no adjustment is made to the recipe instructions, so pan sizes and cooking times and ingredient amounts referred to in the text of the recipe only apply to the original number of servings.