A Healthier Sloppy Joe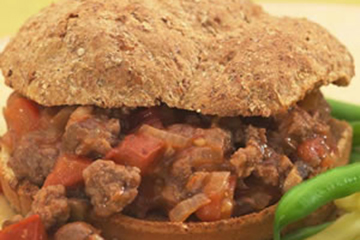 Our updated Sloppy Joe takes lean ground beef and adds chopped cremini mushrooms and diced fresh plum tomatoes, all in a zesty sauce. Served on a whole-wheat bun, it's a hearty dinner sandwich that will please adults and kids alike.
---
Servings: 8 servings, generous 1/2 cup filling each
Preparation time: 35 minutes
Total time: 45 minutes
Ingredients:
12 ounces 90%-lean ground beef
1 large onion , finely diced
2 cups finely chopped cremini mushrooms , (about 4 ounces)
5 plum tomatoes , diced
2 tablespoons all-purpose flour
1/2 cup water
1/4 cup cider vinegar
1/4 cup chili sauce , such as Heinz
1/4 cup ketchup
8 whole-wheat hamburger buns , toasted if desired
Preparations:
Crumble beef into a large nonstick skillet; cook over medium heat until it starts to sizzle, about 1 minute. Add onion and mushrooms and cook, stirring occasionally, breaking up the meat with a wooden spoon, until the vegetables are soft and the moisture has evaporated, 8 to 10 minutes.
Add tomatoes and flour; stir to combine. Stir in water, vinegar, chili sauce and ketchup and bring to a simmer, stirring often. Reduce heat to a low simmer and cook, stirring occasionally, until the sauce is thickened and the onion is very tender, 8 to 10 minutes. Serve warm on buns.
Nutrition:
Per serving Calories: 233; Carbohydrates: 31g; Fat: 6g; Saturated Fat: 2g; Monounsaturated Fat: 2g; Protein: 14g; Cholesterol: 28mg; Dietary Fiber: 5g; Sodium: 436mg;