Originally published June 1, 2017, last updated April 26, 2018
A May Day Gift for Your Well-being!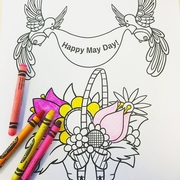 Recent research shows that coloring can help eliminate stress, increase focus and foster a sense of tranquility and well-being. At Mature Health Center®, we're always looking for information that can help you live a long, healthy, happy life. Rather than just tell you about the health benefits behind the phenomenally popular trend of adult coloring, we wanted to give you a chance to try it out. This specially designed May Day basket is our gift to you — enjoy!
Share the fun!

Email this May Day basket: Wish your friends, grandkids and others a Happy May Day by sending them this coloring page!

Show us your colored artwork: Scan or take a photo of your finished piece and share it on our Facebook page!
Share this post
so your Facebook friends can color, too. You must be logged in to Facebook to view and share the post.