Originally published September 4, 2018, last updated September 6, 2018
Donut Hole Goes Bye-Bye, But Your Annual Review Shouldn't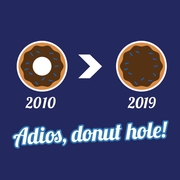 Don't be tricked into thinking the "closing of the donut hole" in 2019 means you don't need to review your Medicare Part D Prescription Drug coverage this fall during the Annual Election Period (AEP).
It's true that you will pay a little less for brand-name prescription drugs if you fall into the donut hole next year. But the change makes it all the more important to compare your Part D options during AEP, which is Oct. 15 through Dec. 7.
What consumers pay for brand-name and generic drugs varies depending on their Part D plan, and those plans change each year.
"Understanding what your plan pays in the different coverage phases of Part D, including the donut hole, is key to managing your health care costs," said Brian Hickey, vice president of Insuractive®, which offers Medicare plan reviews and shopping assistance through Medicare Marketplace®. "Regardless of the changes to the donut hole, your plan's premium and formulary can change. And if you don't review your plan during AEP, you could find out too late that an expensive drug is no longer covered or that you will hit the donut hole when you hadn't before."
Catch Costly Changes, Save Thousands
Reviewing your plan and comparing it to other plans also could reveal some possible savings, Hickey said.
"Comparing Medicare prescription drug plans during open enrollment can save you thousands of dollars," Hickey said.
The donut hole is the third phase of Part D's four coverage phases. In the first phase, the "deductible phase," you pay the full drug cost until you hit your plan's deductible. Then you enter the "initial coverage phase," which is when cost-sharing begins. You pay a co-payment or co-insurance until you hit the initial coverage limit. Once you hit that limit, then you enter the coverage gap or "donut hole," in which you pay a discounted price for brand-name and generic drugs until your out-of-pocket spending hits a catastrophic amount set by the government. Even though it's a discount, you're still paying more than the insurance plan in this phase. Once you hit that catastrophic amount, you are in the "catastrophic phase," in which your costs drop dramatically — you pay either a 5% co-insurance or a co-pay, whichever is greater.
Check out this infographic that makes the Part D donut hole easy to understand.
Donut Hole Changes
Before 2006, people on Medicare didn't have drug coverage. When Part D was created in 2006, beneficiaries paid 100% of the cost of their brand-name drugs when they hit the coverage gap. The goal of the donut hole was to keep costs down for both beneficiaries and the federal government by encouraging seniors to ask for generic drugs whenever possible.
The Affordable Care Act (ACA) called for the donut hole to close by 2020, but the Bipartisan Budget Act of 2018 accelerated the closure for brand-name prescription drugs so that beneficiaries pay 25% of drug costs in 2019, down from the scheduled 30%. For generic drugs, however, the donut hole does not close early. Cost-sharing for generic drugs falls to 37% in 2019 and to 25% in 2020.
If you do fall into the donut hole in 2019, take note of another change that could impact how much you pay. Because a provision of the ACA is expiring, the annual out-of-pocket spending threshold — the amount you must pay before the coverage gap ends and catastrophic coverage begins — is projected to increase by $1,250.
To learn more about trends, changes and what's ahead with the donut hole, read the Kaiser Family Foundation report.
Get Ready for Your Annual Review
Because Medicare MarketPlace's Licensed Insurance Agents specialize in Medicare plans, they can help you review your Part D plan, compare plans and find the one that best suits your needs and budget. A full plan review is a free service, and there is no obligation to purchase anything. To speak to a Medicare MarketPlace Licensed Insurance Agent, call 1-800-639-0781. Or, fill out this form if you'd like us to contact you to review your existing coverage and compare other plans.
Filling out the form is a great way to set a reminder to review your plan, because Medicare MarketPlace agents will call you when plan premiums are announced.