Originally published June 1, 2016, last updated June 4, 2019
Dig In to Our Part D Donut Hole Graphic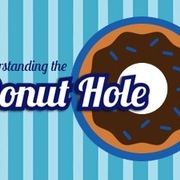 Trying to understand the Medicare Part D Prescription Drug donut hole is about as fun as counting calories. So, we're using National Donut Day to make this topic a whole lot more palatable.
When you get a grip on this confusing Medicare coverage gap, you can plan ahead and make decisions that could save you money. Check out our infographic and Q-and-A from Ryan Vlasin, our on-staff pharmacist and pharmacy director.
Written by Ryan Vlasin, Medicare MarketPlace® Pharmacy Director
What is the donut hole?
Medicare Part D Prescription Drug coverage has four phases — the deductible phase (in which you pay the full drug cost until you hit your deductible), the initial coverage phase (in which cost-sharing begins), the coverage gap or "donut hole" (in which you pay more than the insurance plan pays until you hit a certain amount), and the catastrophic phase (in which your costs drop dramatically after you've paid a certain amount). You hit the donut hole when the medication costs shared by you and your plan have reached an amount set by the government. This amount changes every year, but for 2019 it is $3,820. Once you hit that amount, you move from cost-sharing to paying for your prescriptions on your own again. You pay a discounted price for brand-name and generic drugs until your out-of-pocket spending hits a catastrophic amount ($5,100 in 2019.)
When did the donut hole start and why?
The donut hole started in 2006 with the birth of Medicare Part D Prescription Drug plans. It was designed to assure that the private insurance carriers had a way to limit their exposure to the high costs of medications. When it first began, Plan D enrollees were responsible for 100% of the drug costs while in the coverage gap. Health care reform in 2010, however, gradually lowered that percentage. The gap was scheduled to close by 2020 to 25%, but the Bipartisan Budget Act of 2018 pushed that date up to 2019.
| Year | You'll pay this percentage for brand-name drugs in the coverage gap | You'll pay this percentage for generic drugs in the coverage gap |
| --- | --- | --- |
| 2016 | 45% | 58% |
| 2017 | 40% | 51% |
| 2018 | 35% | 44% |
| 2019 | 25% | 37% |
| 2020 | 25% | 25% |
Source: Medicare.gov
Is there insurance coverage you can buy to avoid the gap in coverage?
Some plans offer better coverage during the gap, but those plans usually have higher premiums for that added benefit.
What do consumers need to know about the donut hole?
Some people may be able to reduce the chance that they find themselves in the donut hole by looking closely at their options prior to enrolling in a Part D plan or by changing plans during the annual Open Enrollment Period Oct. 15 through Dec. 7, which is when you can make changes to your Medicare Advantage and Part D Prescription Drug coverage for the following year. Some patients are on medications that are expensive and don't have a good alternative, so they will likely still experience the donut hole.
What should consumers do if they have any questions about the donut hole?
Anyone with questions about how the donut hole works or how they can reduce their exposure can call Medicare MarketPlace at 1.800.639.0781 to speak to a Licensed Insurance Agent, and we will help!